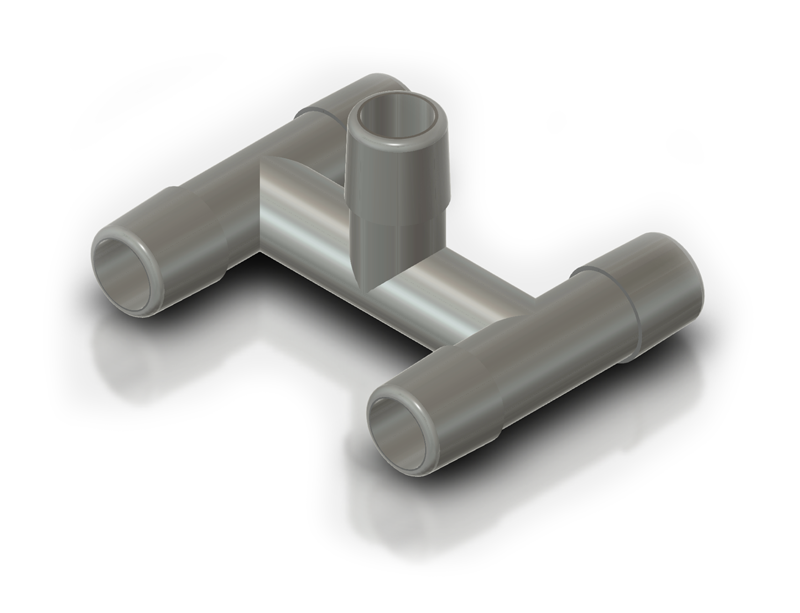 The number of ventilators is not enough for the increasing COVID-19 cases. COVID-19 patients are expected to experience pneumonia-like symptoms such as difficulty in breathing. There is no specific drug that can kill this virus, however, supportive care will be critical in the next few weeks as the virus spread to a greater percentage of the population. Providing oxygen to patients will be critical. Mechanical ventilators will play a major role in the treatment of COVID-19. Hospitals in the U.S. are currently are expecting an unprecedented number of new COVID-19 cases. The shortage of mechanical ventilators and health workers needed to operate them, may lead to a catastrophic scenario.
Previous clinical groups have used customized connectors using readily available supplies. The main limitations of using a customized connector assembled with several connective pieces is the inability of reducing the size of the connector to minimize dead space volume.
Furthermore, using standard connectors manufactured with standard materials, there is the potential of air leakage and infectious complications from sharing one ventilator. To partially alleviate this problem, we have developed a 3D printable "H" connector for ventilators, such as the Puritan Bennett™ 840 Ventilator. The "H" connector is manufactured using PLActiveTM a proprietary material for additive manufacturing known for his viral deactivation properties, as well as its strong antimicrobial behavior and biocompatibility. The purpose of this design is to expanded use of a single ventilator to ventilate four simulated adults experiencing respiratory failure due to CIVID-19. Furthermore, the design minimize dead space volume and prevent air leakage do to unnecessary connections.
Download the "H" Connector STL digital files here
COVID-19 how to use one ventilator to save multiple lives
Watch this short video to learn how to use one ventilator to save multiple lives.